1.
1950 BSA
This i

s a 1950 BSA C11 250cc overhead valve single. With a rigid back end and telescopic forks this bike has its original log book present and its current V5C.
The Birmingham Small Arms Company Limited
(
BSA
) was a major industrial combine, a group of businesses manufacturing military and sporting firearms; bicycles; motorcycles; cars; buses and bodies; steel; iron castings;
hand, power
and
m
achine
tools; coal cleaning and handling plants; sintered metals; and hard chrome process.
At its peak, BSA was the largest motorcycle producer in the world. Loss of sales and poor investments in new products in the motorcycle division, which included
T
riumph Motorcycles
, led to problems for the whole group.

On eBay with bids at £1250, this bike comes with its original registration number.
2.
Matchless Model X
This is a lovely 1937 vintage Matchless Model X Vintage Motorcycle first registered in December 1937. It has had a restoration and with little use since is in great condition. She starts and runs well and is good original bike with original registration number which has sold on eBay.

Matchless
is one of the oldest
m
arques
of British
motorcycles
, manufactured in
London between 1899 and 1966. A wide range of models were produced under the Matchless name, ranging from small two-strokes to 750 cc four-stroke
twins. Matchless had a long history of racing success; a Matchless ridden by
C
harlie Collier
won the first single-cylinder race in the first
Isle of Man TT
in 1907.
3.
Norton Model 18
A vintage 1934 OHV Norton 500cc, 18 Model with open valves. For sale in an unrestored original condition. An easy and reliable starter, it has also sold on eBay. A favourite with Ollie as his Great Gran used to work in the Norton factory painting the Norton logos on the fuel tanks.

4.
British Vintage Excelsior Consort
An eye catching Excelsior F6 98cc Classic motorcycle two stroke single cylinder 2 speed.
It has been restored and h

as
had a new clutch, primary chain ,base plate points and condenser
fitted. Starts very easy and runs and ticks over spot. On ebay with a starting bid of £850 its a great vintage novice bike.



Yamaha XT500 Thumper which has been imported from South Africa. In great original condition with patina to add to the flavour! It starts easily and pulls like a train. The bike has powder coated wheels, new tyres and a stainless steel exhaust fitted. It needs some tlc, but is in pretty fantastic condition for a 30 year old bike. It's currently on eBay with bids at £1000. I want it!

Made by Honda from 1975 to 1981, the bike was an instant success. The 21 inch front wheel and 18 inch rear wheel with enduro style tyres make it fit for both on and off road use.

6.
BSA A10
This gorgeous 1961 B.S.A Super Rocket 650cc is a fantastic
example of this model.
Fully restored to the highest standards, with a comprehensive file of work done it is in perfect running order and would be hard to find a better example.
Taxed and MOT'd for 11 months it was on eBay for £5999 but didn't sell.

The Super Rocket was a

development

of the BSA Rocket. It gained a reputation for reliability but struggled to compete against the Triumph engines and the Norton Featherbed frames.

7.
Honda CL77
A very nice older restoration of a 1966 Honda CL77 300 Scrambler, this is the model of machine that Elvis Presley rode in the famous film Roustabout. The bike starts and rides perfectly and is ready to go priced at £6489 on eBay.

This scrambler bike differed from the sports bikes to allow for some off road riding. The upswept exhaust pipes were designed to increase ground clearance and a bigger tube frame gave extra strength. Its overall sound was one of the features that sold a lot of these popular bikes.
8.
James Comet Ex RAF
A very rare ex RAF James 98cc, believed to be 1956.
The bike has been in a collection for the past 30 years and has an older style log book, it is quite rare still having its original leg shields and its canvas pannier bags. The James is in running order and you can still see the original paintwork behind the side pannel and inside the frame. On eBay for £1800.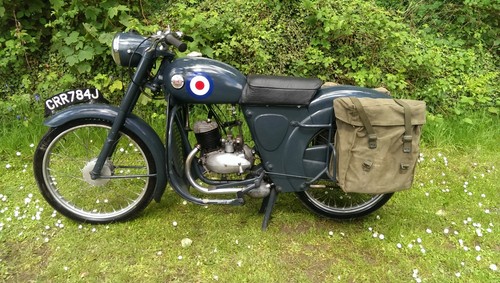 Manufactured by the James Cycle Co in Birmingham, who were prolific bike and motorbike manufactures between 1897 and 1966, it
became another British motorcycle industry casualty under the onslaught of Japanese imports.
A fully restored vintage twinshock 1972 Suzuki TM250J. A fine example of a restored classic motocross bike with what seems to be no expense, effort or detail seemed spared. The bike runs as well as it looks with a fearsome exhaust note! On eBay for £3450 it's sure to be a future investment.



A truly lovely looking machine, this vintage pre 1965 trials bike is for sale for £8995. Handbuilt customised and modified it is road registered and ready to go. A real head tuner and recession proof investment.
£8995